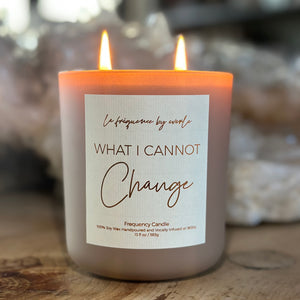 Soul Of EverLe
La Fréquence ~ What I Cannot Change Candle
Regular price
$65.00
$0.00
Unit price
per
 Introducing the limited edition, La Fréquence "What I Cannot Change" candle. The intoxicating, sensual blend of Vanilla Wood, Piñon and Amber bring warmth to any space, allowing you to sink deeper and let go.
Our candles are handcrafted from 100% veggie soy wax, essential and natural fragrance oils and handpoured "in house", meaning in my home. The La Fréquence candles are not only beautiful candles, but an experience, intended to invoke emotion and connection. With that intent, I have encoded my voice, intention and love for you into molten wax to create these candles. Which when lit, releases into the very air you breathe. While the candles were solidifying, I personally chanted over them and a recording of the chant, which was recorded at 963 hz, the frequency that reconnects us with spirit and awakens any system to its original and perfect state, continued playing throughout the drying process.
With the purchase of this candle, you will receive a scannable code to find the chant it was created with, so that you may create your own personal ceremony and prayer ritual. My intent for the chant that accompanies the candle is that it be utilized as a prayer to call in the miracles that are already here and on their way to you and me. 
Fill: 13 fl oz
Frequency: 963 hz
Height: 4.1"
Width: 3.75"
***Candle Ships Separately From Apparel. Please be advised that the candles may be subject to import fees which are outside of our control on international orders. Shipping may take a little longer during this time, please refer to your tracking number for estimated times.***
---
Share this Product
---